Koret UC LEADS Research & Leadership Symposium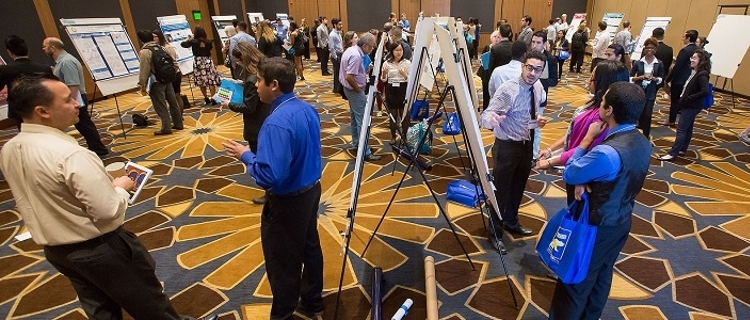 Scholars engage with faculty judges and fellow scholars as they present their research at the 2017 UC LEADS Symposium at UCLA
The Koret UC LEADS Research and Leadership Symposium is the highlight of each academic year, and the annual opportunity for mentors and scholars from all campuses to meet as an intellectual community. At the Symposium, scholars share the results of their research through poster presentations, attend professional development workshops and panels, listen to keynote addresses from speakers in government and industry, and meet other members of the UC LEADS community.
THE 2018 SYMPOSIUM WILL BE HELD SATURDAY MARCH 10, 2018 AT UC SANTA BARBARA
Registration is now closed.

Click here for registration, agenda and lodging details
SCENES FROM PAST SYMPOSIA
Click on the links below to view photos from past symposia.
March 10, 2018 - UC Santa Barbara
March 11, 2017- UC Los Angeles
March 5, 2016- UC Davis
March 21, 2015- UC Merced
March 22, 2014- UC Riverside
March 1-2, 2013- UC Santa Cruz
February 3-4, 2012- UC San Diego
March 3-4, 2011- UC Berkeley
April 30-May 1, 2010- UC Irvine
March 8-9, 2009- UC Davis
March 1-2, 2008- UC Santa Barbara
March 3-4, 2007- UC Los Angeles
March 4-5, 2006- UC Santa Cruz
March 4-6, 2005- UC San Francisco
February 28-29, 2004- UC Los Angeles
March 1-2, 2003- UC San Diego
March 1-3, 2002- UC Riverside
March 9-11, 2001- UC Davis