Masuda Sharifi, UC LEADS 2015-2017, UC Santa Cruz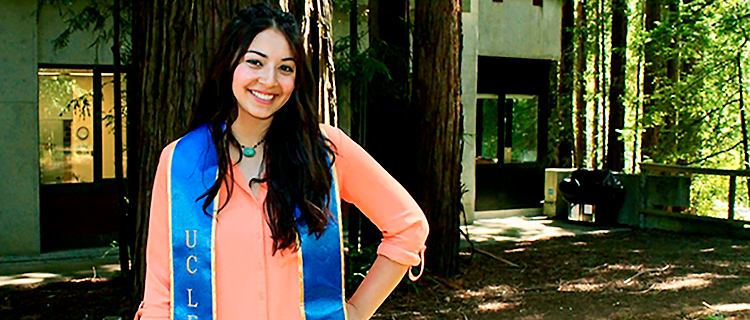 JUNE 21, 2017
I was born in the city of Mazar-e-Sharif in Afghanistan during the time of the Taliban invasion. Living in an unfurnished home, hauling water from a community well, and sleeping on a "toshak" (Farsi for a homemade mattress) was the norm of my daily life. Fearing for our lives, my family and I escaped from the Taliban and migrated to the United States. Upon our arrival, I exhaled a feeling of unease and breathed in the air of safety. We had reached a land that was beyond our spectrum of reality—the land where women are their own entity. However, America did not completely translate into lack of hardship.
My father had developed scaly sores on his chest in Afghanistan, but doctors and medical care were non-existent at the time. Having access to medical care for the first time in the United States, he received a late diagnosis of Melanoma. I witnessed my father's skin get completely conquered with scalloped and uneven red, pink, brown, and yellow lesions. Towards the final stages of the disease, my siblings and I learned about clinical trials that could potentially extend my father's life. During this devastating moment in my life, the clinical trials that experts suggested sparked hope in the hearts of myself and my family—this hope later proved to be false. This exposure to clinical trials stayed with me throughout the years and inspired me to attempt to provide salvation for other families in situations like mine.
In college, I realized that I have the privilege to gain an education; something that many people in other parts of the world do not have, especially women like myself. As a sophomore at the University of California, Santa Cruz, I was accepted into UC LEADS. Through the program, I have had the privilege of conducting research in three molecular biology laboratories. Elucidating the molecular and biochemical basis of disease sets the foundation for the development of novel treatments and cures. The UC LEADS program has also offered a community I feel empowered by, professional development and leadership skills.  As I reflect upon my circuitous path from the escape of the Taliban, to migrating to the United States, from not having access to an education, to spending countless hours in the research laboratory, I am grateful for the profound experiences and knowledge that I have acquired through the process. I will be starting the Biochemistry, Molecular, Cell, and Developmental Biology Ph.D. program at UC Davis in the fall. I hope to one day reach a place in life where I can contribute to understanding disease through research and development of effective treatments—especially making an impact in less privileged countries, such as Afghanistan.